The SFMI Reports
Our reports reflect the findings of our annual assessments helping to embed sustainability across the FM industry. We hope they help upskill the sector, raise awareness of challenges and celebrate success.

Our Summary Reports highlight the top sustainable Facilities Management providers in the UK based on our 23 ESG criteria assessments, along with market trends and a snapshot of the global picture.
Our 23 Criteria for Sustainable FM Reports document the 23 interlinking ESG criteria applicable to FM and the built environment. We use this criteria to benchmark and assess FM providers.
Our Leaders Forum reports are from collaboration with Partners
Our Research Reports and white papers focus on they key challenges in the industry, and provide solutions for organisations to overcome them.
The SFMI Annual Award Winners and Summary Reports
The 23 ESG Criteria for Sustainable FM
The report is a guide for FM providers, FM Teams and Property teams to understand the definition of each criteria and how it relates to sustainability in the built environment; how each criteria affects the role of the FM; what FM can do to manage each criteria; how each criteria interlink with other sustainability criteria; and what should sustainable FM leaders be achieving according to the SFMI scoring assessment.
We update the criteria report every year before assessments, to ensure that criteria remain relevant, and take into consideration any developments (eg. regulatory, COVID-19) . We aim to write the report clearly  so that it can be used as a guide for those on their sustainability journey. We also make sure we highlight and discuss Leadership attributes.
The 23 Criteria for Sustainable FM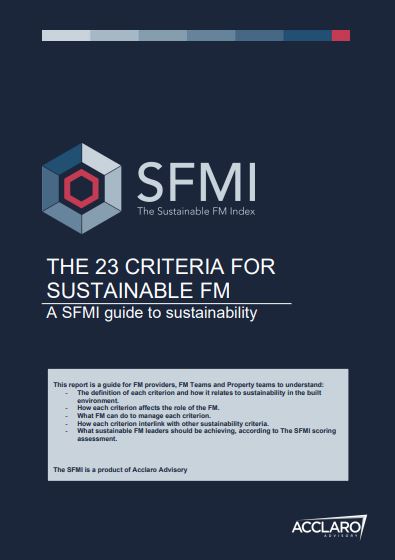 The 23 Criteria for Sustainable FM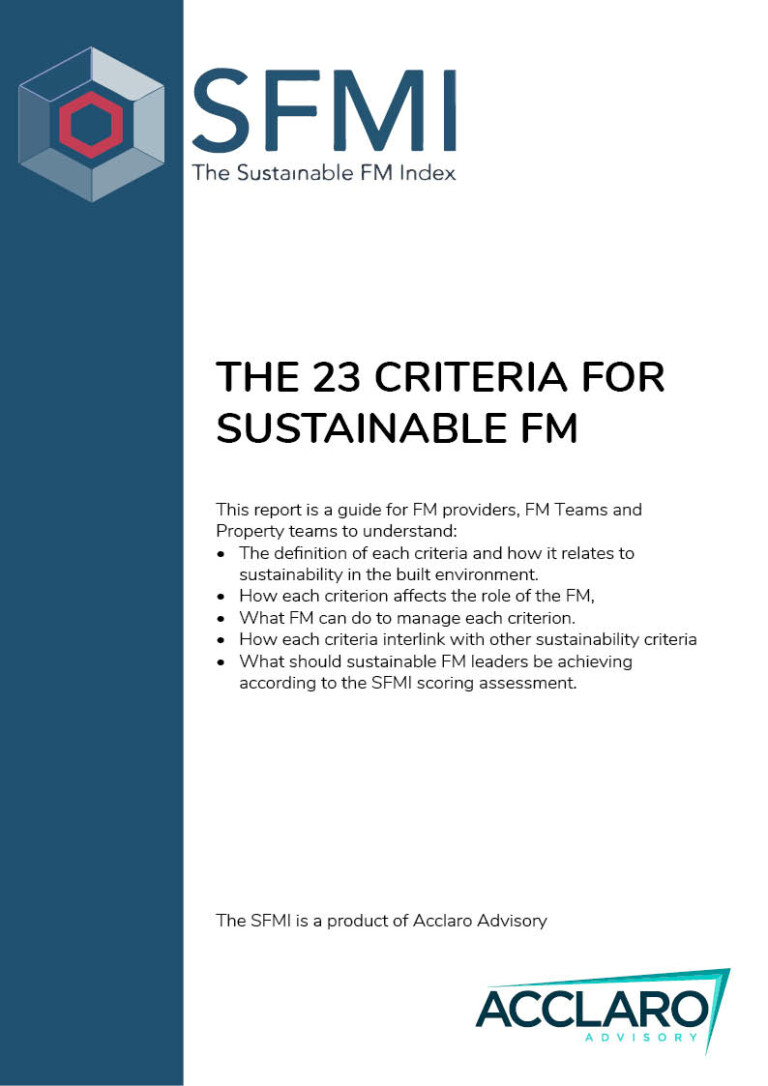 The 23 Criteria for Sustainable FM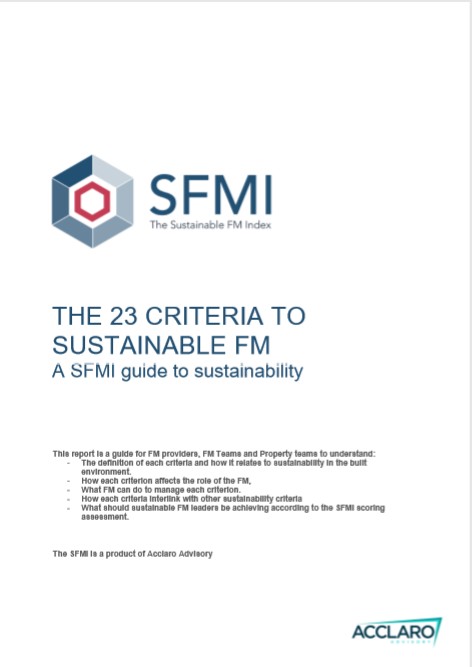 Leaders Forum
In collaboration with our partners, our forum discusses challenges and trending topics affecting Facilities Management organisations. These reports pull together the outputs from our collaborations.
Research Reports
The SFMI will often undertake research projects and produce reports and white papers – read about some of our more recent publications
Subscribe for updates
Subscribe for updates and new reports from The SFMI.